The Vaccinator 500 Go-Bag (VS-500GB) is a set of supplies for the vaccination of 500 people. This prepackage module is ideal for pandemic preparedness or a smaller flu clinic. Supplies are complete and organized so all that is needed are staff and vaccine. It includes a soft-sided medical bag (MC-GB) with needed supplies for 500 patients (alcohol pads, bandages, syringes, gauze, gloves, sanitizer, spill kits, paper, pens, etc.). A SmartBook™ containing the critical data including descriptions, locations, lot numbers, expiration dates, storage parameters, etc. also is included. This system is compact and ready to roll. A line item list of products is available upon request.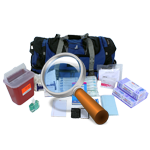 Supplies are intuitively packaged ready for the next campaign.
Includes a wheeled duffle (MC-GB).
SmartBook™ system guide aides in deployment and training.
Closed: 31½" x 15" x 14½"
Weight: 55 lbs.