The Vaccinator 500 Go-Bag (VS-500GB) is a set of supplies for the vaccination of 500 people. This prepackage module is ideal for pandemic preparedness or a smaller flu clinic. Supplies are complete and organized so all that is needed are staff and vaccine. It includes a soft-sided medical bag (MC-GB) with needed supplies for 500 patients (a SmartBook™ containing the critical data including descriptions, locations, lot numbers, expiration dates, storage parameters, etc. also is included). This system is compact and ready to roll.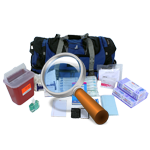 Supplies are intuitively packaged ready for the next campaign.
Includes a wheeled duffle (MC-GB).
SmartBook™ system guide aides in deployment and training.
Closed: 31½" x 15" x 14½"
Weight: 55 lbs.