VeriCor systems are easily managed and sustained by our customers. However, at times personnel and resources are scarce and it's just easier to let the professionals do it. Our Medical Supply Replenishment packages let our customers focus on their other duties rather than preparedness system maintenance. From basic package-and-send services to on-site replacement solutions, VeriCor's supply replenishment will ensure that your valuable Response-Friendly® System is up-to-date, organized, and ready to respond.
Take a look at the information below, but if you are remotely interested in this service be sure to call (608) 526-6901 and ask for a Replenishment Service Specialist. Or send an email to info@vericormed.com with your contact information and they will be sure to get back to you.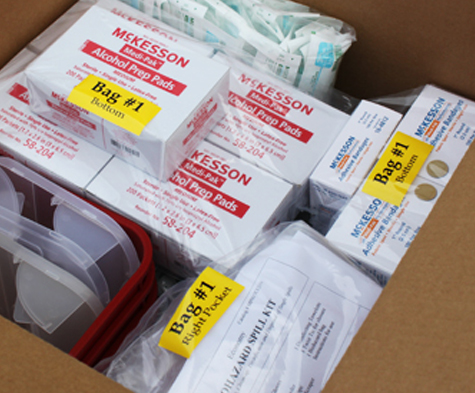 WE DO THE LEG WORK








From identifying the product to packaging and labeling where it goes, we do the dirty work. Different levels of you involvement are available.

PRODUCTS STAY UP-TO-DATE





With a replenished system you stay prepared. All expired product is replaced with product that is fresh and good.

SMARTBOOK™





The system SmartBook™ is updated and a new copy is sent along with the product so you don't miss a beat.

WHO IS A SUPPLY REPLENISHMENT SERVICE FOR?
Previous customers that have expired product in any emergency preparedness system built by VeriCor. This includes public health departments, hospitals, VAMCs, or emergency management teams that have purchased products from VeriCor in the past.
WHAT IS A SUPPLY REPLENISHMENT SERVICE?
A service where we look over the system SmartBook™ and identify products that have expired, or are about to expire. Then a quote is provided based on the level of customer involvement.
Hands-off = specialists come on-site to replace items.
Hands-on = products are delivered with replacement instructions.
WHEN IS A SUPPLY REPLENISHMENT SERVICE USED?
When time, personnel, or resources are scarce, yet the system needs to be up-to-date and ready to use.
WHERE CAN A SUPPLY REPLENISHMENT SERVICE BE USED?
Any system built by VeriCor.
WHY BUY A SUPPLY REPLENISHMENT SERVICE?
It's easy. The alternative includes (but is not limited to) identifying product, purchasing items, receiving items, logging item details, physically replacing items, updating system inventory lists, etc.
HOW TO GET MORE INFORMATION ON A SUPPLY REPLENISHMENT SERVICE
This is a great service that customers like you really appreciate having us do. But pictures and words only go so far, especially with something like this. Call today to talk with a Supply Replenishment specialist who speaks in an intelligible medical language to get a complete understanding of this service and what it can really do. Once impressed that such a service really does exist, talk with the specialist about what you need and in getting a quote. This service is not available for purchase on this website. Due to the highly customized nature of this product, let's talk and make sure this is a right fit. Call now…(608) 526-6901.