The Outer Bag of Cool Cube™ 08 (CC-Case-08) is a soft-sided case made up of a lightweight, durable material, that fits the Temp-Shield™ vacuum insulated panel (VIP) system of Cool Cube™ 08 models. The case features an adjustable, padded shoulder strap with a built-in carrying handle, clear outer pockets and a double-zipper design. This case is specifically made to make transport easy.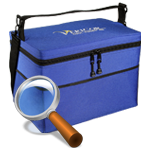 Straps
An adjustable, padded shoulder strap eases longer commutes and is removable. The fixed carrying handle is great for general use and moving of product.
Zippers
The double zipper closure has toggles for easy access. Zipper design also enables users to close lid securely around an external-to-internal monitor probe cord.
Pockets
Clear, external pockets are on all four sides and are great for digital data loggers (DDLs), paperwork, pens and any other necessary items needed to go with the product.
Outside: 16″ x 11½″ x 11½″
Weight: 2 lbs.